Spicy Kale and Potato Hash
Whether you're about to rue the day, or conquer your couch – this spicy kale and potato hash is hearty, wholesome, packed with nutrients, and a breeze to make. It's great on its own, topped with an organic egg, or served as a tasty, vegan side dish.
Servings: 2 (or one hungry person, if you're a garb-orator like me)
INGREDIENTS
6-8 small potatoes, washed and diced (I used fingerlings and purple potatoes)
1 head of organic, black kale, stemmed and finely sliced
1/2 medium onion, finely chopped
1 bird's eye chili, finely chopped
1/2 lemon, juice only
2-3 tablespoons extra virgin olive oil/avocado oil/grapeseed oil
Himalayan salt, to taste
HOW-TO
Blanch potatoes until al dente in boiling salt water. Strain.
Heat a pan (I like to use cast-iron) with oil, then add onions, chilies, and potatoes.
Sauté on medium-high heat until potatoes and onions are golden brown.
Add kale, lemon juice, and salt. Season liberally.
Cook for another 2-3 minutes on high heat, or until lemon juice has reduced and veggies are crispy and delicious.
Serve and enjoy…don't forget all the yummy, crispy bits!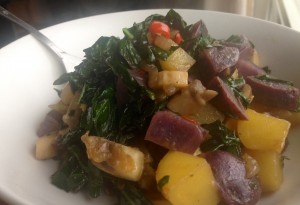 Hash browns don't have to be mechanically formed, listless, fried patties – so step up your breakfast game and get your spicy, kale and potato hash game on fleek!