Raw Vegan Cake with Berries and Cashews
Berries galore, creamy cashews, and a crumbly date crust? Yes please!
I am always on the hunt for delicious, dairy-free desserts. With a bit of trial and a lot of error, I finally came up with a raw vegan cake that is rich, creamy, and as pretty as pie – er cake.
I present you my double berry cashew freezer cake!
FILLING
3 cups soaked raw cashews (soaked overnight)
¾ cup coconut milk
½ cup melted coconut oil
1 tsp vanilla or 1 pod vanilla bean
¼ teaspoon salt
¼ cup maple syrup
½ cup lemon juice
1 cup fresh or frozen blueberries
½ cup fresh or frozen cranberries
Zest of 1 medium-large orange
CRUST
1 cup raw almonds or walnuts
¼ cup shredded coconut
¼ cup pitted Medjool dates
Pinch of salt
WHAT YOU'LL NEED
Spring form pan
Parchment paper
Food processor or Vitamix®
Measuring utensils
HOW-TO
Get your cashews soaking! You want to fully submerge them for 8-12 hours at room temperature.
Toss CRUST ingredients in your food processor and blend until crumbly, so the ingredients form a lose dough when pinched.
Place crust mixture into sprig form pan and pack down firmly and evenly to cover the bottom.
Line the inside with a strip of parchment paper the height of your pan. Place pan in refrigerator to set, while you prepare filling.
Add all filling ingredients into food processor or Vitamix® EXCEPT berries and blend until silky smooth and buttery.
Divide filling in half.
Pour the first half of filling into the spring form pan, smooth evenly and place in freezer for 10 minutes.
Add the other half of the mixture back into the food processor with the berries. Blend thoroughly.
After the first layer has set, remove from freezer and add the berry layer. Smooth out and let set in freezer overnight.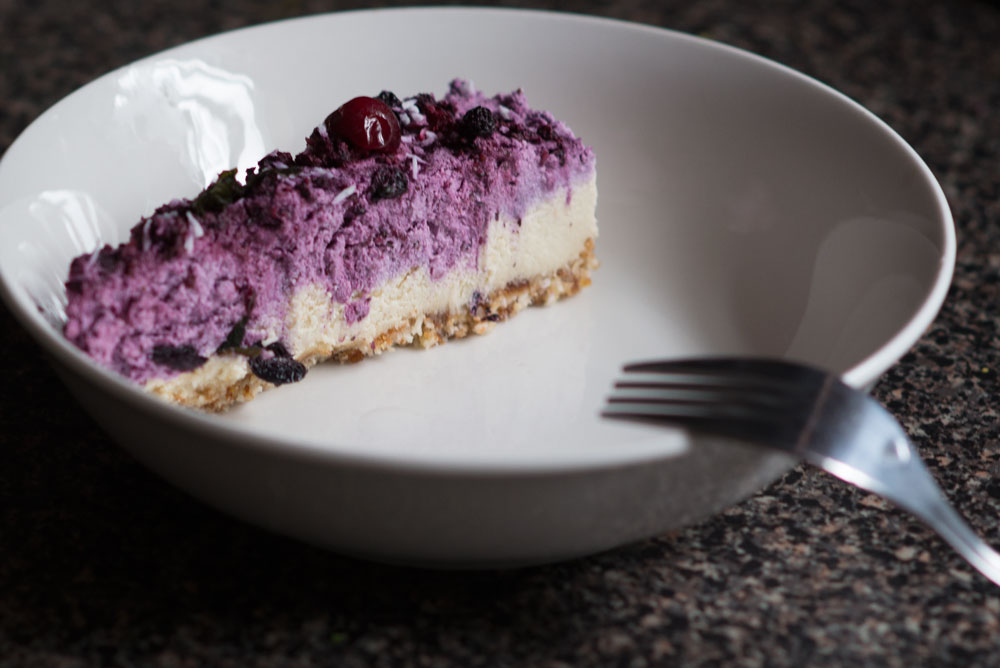 Take that beauty out and allow to thaw in the refrigerator for 1 hour before serving. Keeps good in the freezer for two weeks.
For extra love, top this decadent raw vegan cake with berries, shredded coconut, mint or edible flowers!