Life Happens Outside Your Comfort Zone
Almost a year ago, my colleague Steve Fleck sent me a link to an event featuring a vintage bike race called L'Eroica (The Heroic)—held in Tuscany, land of rolling hills, crazy drivers, amazing wines and, of course, cyclists.
Why was it deserving of the term heroic? We were about to find out.
But let's start by introducing the people who decided it would be a good idea to join me on this crazy escapade. I am a founding member of a cycling club called Les Domestiques. We are a group focused on cycling and social cause. We have donated or fundraised over $65 million dollars over the years, including the private portion of our new Mattamy National Cycling Centre.
Our group of highly successful members tends to be adventurous and up for anything when it comes to cycling, so I decided to test their mettle at an event that was way, way out of their comfort zone. Luckily for me none of them actually read their emails or reviewed my video links to the event. If they had, I am not sure how many would have actually signed up.
As it was, we filled all 12 of the spots on offer, and many of us also brought spouses to enjoy a week in Tuscany before the event.
I won't go into detail on our week of riding before the event, but just know that the tour company InGamba laid out a 5-star experience at the finest hotel in the region. The company also supplied $15,000 Pinarello bikes—equipped like the one that won the Tour de France this year—and led us around some of the most beautiful and hilly countryside in the world.
Riding the Pinarello made the shock of switching to heavy, vintage (read old) steel bikes with down tube friction shifters, barely functional brakes and skinny tubular tires even more jarring. And to boot, 50 percent of the L'Eroica event course was on Strade Bianchi—a really romantic way of saying rough and very steep gravel roads.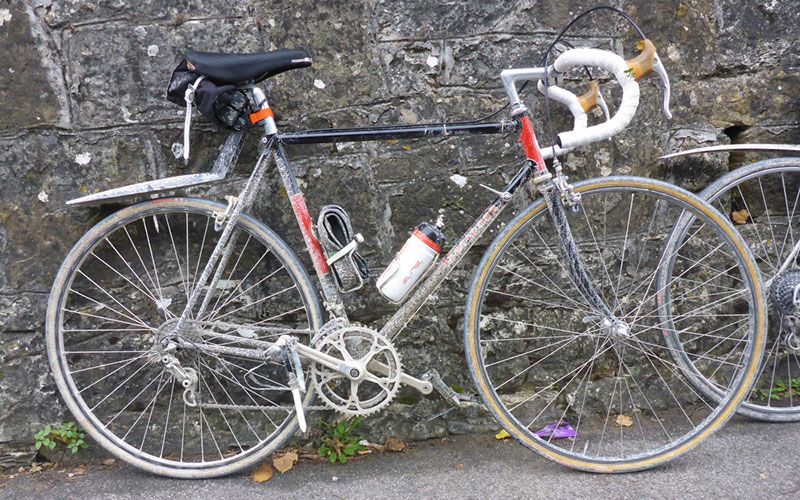 Our group was made up of riders of various levels, so we all chose a set distance that suited our fitness and our willingness to take punishment. Regardless, all of us had to be prepared to spend between three and six hours on the bike.
Normally Tuscany is 26°C, sunny and pleasant this time of year. But as luck would have it a cold wet-front moved in, and on the morning of the event we faced 12°, wind and rain…all day. EPIC!
I have to give a lot of credit to our group. They braved these conditions on bikes that did not look like they would make it through a city commute, never mind hours of pounding over gravel roads. Mona, one of our female riders, had been on a bike a total of half dozen times…in her life! Yet with tenacity and a smile, she made it through the event (she does hate me a bit now). And my buddy Norbert, despite being in recovering from surgery, manned up and finished (cursing mind you) in one piece.
Some of our stronger riders like John and Paul made light work of the course, even leaving Eros Poli—a Tour de France stage winner—in their churning wake.
But what made the event fun apart from just the riding was the spectacle of all the oddballs and cycling nuts in vintage kit, costumes and crazy old bikes. The food was also great, and my fave meal was served at a final stop in the pouring rain—piping hot Ribollita (traditional Tuscan bread and bean soup). It literally gave me and Michele—my long suffering partner in life and on the bike—a second wind.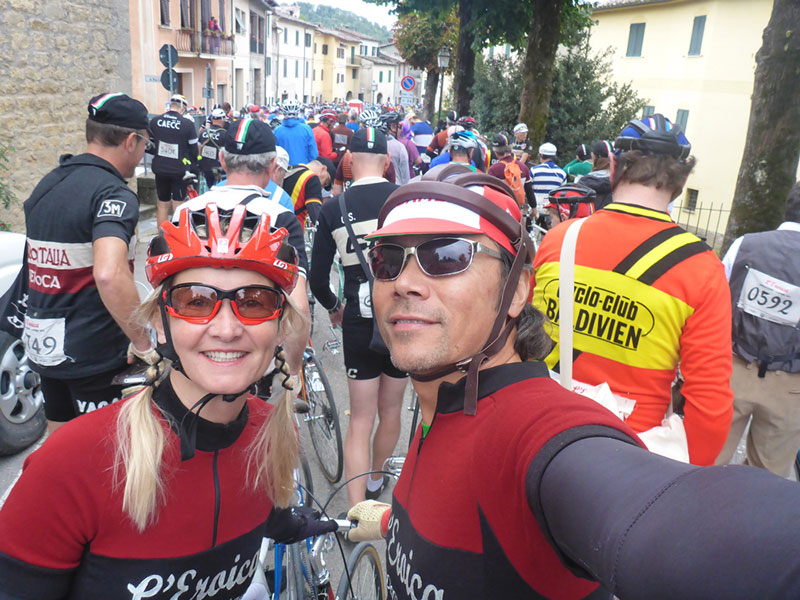 It's worth mentioning that Michele, who is a mother of three, blew past young fit men both uphill and down! Her skill on a bike was pretty inspiring, and her speed through challenging, twisting, gravel roads on a bike with almost no brakes and skinny road tires was slightly terrifying. She claimed it was because her brakes were so crap she could not slow down!
As we crossed the finish line exhausted, the thought crossed our minds: "Would we do this again?" In a New York minute! But that will have to wait for another year and perhaps another location, as L'Eroica is now in 5 countries.
The biggest lesson learned from this unique and somewhat risky escapade is that life is not to be lived solely in small bite-sized pieces. There are times when you need to challenge yourself, step outside your comfort zone, and take that big mouthful of adventure with gusto.
After all, as the great writer Anais Nin once wrote:
Life expands and contracts in direct proportion to our courage.
For more info on the event go to L'Eroica.
---
BIKE NERD ALERT: As a side note, although all the other riders used vintage bikes supplied by the tour company, I decided to lovingly restore and build a vintage Mariposa with original 1979 Campagnolo Super Record parts. The project was super fun with the help of Bicycle Specialties and Michael and Deidre Barry. The bike performed flawlessly and I look forward to riding it many more miles to come.