My Favourite All-Natural and Cruelty-Free Cosmetics
Navigating through the beauty aisles can be pretty overwhelming, especially if you're on the hunt for all-natural and cruelty-free cosmetics…that actually work.
For me, finding the right product can be pretty challenging. Firstly, I'm mixed (Eurasian), meaning I have yellow undertones, but almost every natural cosmetic I've tried is pink-pigment dominant. My second challenge is my combination skin—it gets super dry, needs a ton of moisture, but is susceptible to break-outs. WOOHOO! Lastly, I need something that holds up to my on-the-go lifestyle and stays put for the day.
After years of trial and error, I've settled on some favourites that I absolutely adore. They're all vegan, paraben-free, all-natural, and many use organic ingredients. Beauty without cruelty—it's a good thing.
SKIN:
Lavera Organic Natural Liquid Foundation: I'm in love with this stuff! It's my go-to everyday foundation. It's super light and feels like more of a moisturizer than a make-up. It's a nice light-medium coverage, so it let's my skin breath while evening out my complexion. It also smells amazing. (Price: approx. $28 CAD)
I use: Almond Amber
(You should also check out my recipe for all-natural DIY Cinnamon-Sugar Body Scrub!)
Tarte Maracuja Creaseless Concealer: I'm not a big fan of full coverage make-up, but when the attack of the hormones happens every month, my skin likes to rebel. This concealer is awesome, because it doesn't ever leave me looking like my make-up is caked-on or flaky. It's creamy and blends like a dream. (Price: approx. $30 CAD)
I use: Medium Sand
Tarte Amazonian Clay Finishing Powder: This stuff feels like you're putting silk on your skin. It's super, super light-weight and works amazingly well during hot, summer days and for keeping oils at bay. This is on the higher side of the price scale, but a little bit goes a really long way—I've been using the same pot for over a year now. (Price: approx. $40 CAD)
Pacifica Radiant Shimmer Coconut Multiples: This little set of goodness has cream blush, bronzer and highlighter in one neat little package. It goes on super naturally, and adds a hint of dewey-ness without looking like you fell into a pool of glitter. It's also very wallet-friendly and my little package has lasted me over a year. I love this as an everyday make-up look over a tinted moisturizer and a touch of mascara. (Price: approx. $14 CAD)
EYES:
Pure Anada Natural Mascara: I can't express my love for this mascara enough. It's made in Canada, all-natural, cruelty-free, they use non-plastic packaging, and it's crazy affordable. The mascara goes on great, is natural looking and non-clumpy, but you can also build the volume nicely without it flaking. It isn't waterproof, but it stands up to my oily eyelids and biking around town on hot summer days. I'm in love! (Price: approx. $14 CAD)
I use: Black
BROWS:
Let me start by saying, brows gotta be on fleek! For me, if all else fails, but your brow-game is strong, it's going to be a great day. I am so happy to have found these products that keep the brows looking oh-so-fresh.
Tarte Brow Architect: This two-in-one brow pencil also comes with a concealer to help define the brows. It lasts all day and is super easy to use. I like to go over this with a brow brush for a more natural look. Definitely on the steeper side, but you get two products in one and one pencil lasts me approximately 3-4 months. (Price: approx. $28 CAD)
I use: Medium-Tan
Pure Anada Brow Powder: This powder is super great on its own, or for helping to soften and fill out pencilled-in brows. To extend the wear, I dampen my angled brush and set with a finishing powder. Other bonuses are that this little pot lasts a long time and its price is hard to beat. (Price: approx. $8 CAD)
I use: Cinder (Ash Brown)
And here's what this not-so undercover hippie looks like all dolled up with these awesome products: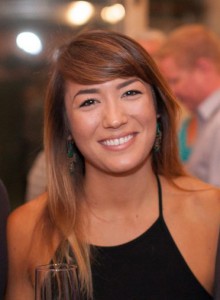 I'm a huge fan of guiltless beauty, because feeling and looking like a fox shouldn't mean hurting one!
What are your favourite all-natural and cruelty-free cosmetics? Tell us below, or share with us on Facebook and Twitter!
Comments
comments