Mud, Beers, and Tears
For over 20 years, intrepid cyclists across Ontario (and many from the US and the rest of Canada) have been plying their cycling skills at the annual Paris to Ancaster bike race. P2A is a unique point-to-point cycling event that takes in the back roads, farm tracks, wooded trails and byways between Paris and Ancaster, Ontario. It draws the largest crowd for any sanctioned bike race in Canada, partly because it's also the most fun and inclusive.
Are you an elite rider testing yourself against the best? This race is for you. But it's also for fat old guys (like me) and a wide spectrum of cycling fans who want a fun but challenging time on two wheels. This year, there were 20, 40 and 70 kilometre options. Since I have not done a ride over 40k so far this year and am about 10 lbs overweight, I of course chose the 70k option…
…because I like crying while riding!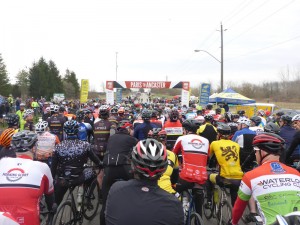 I registered for the VIP Experience because it included a donation to a local hospital, but also because it gave me a few perks, like starting with the first wave of elite riders – which meant I got to see their really skinny butts quickly disappear into the distance as I settled into my slow but steady pace.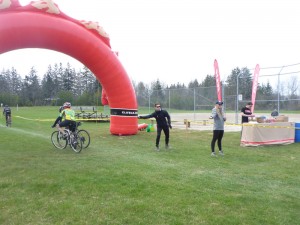 This year was a remarkably dry version, but somehow the mud still seems to find its way onto the course, particularly for the notorious Mud Slide that greets you at kilometre 62 with a "Welcome to Hell" warning! This section is feared by all and is a nasty, narrow and steep descent through thick mud littered with big rocks, roots and debris – hidden under the mud!
As usual, I was able to ride around the poor cyclists who had crashed or were walking. But after I shot out the bottom I realized, in my zeal to rip the descent, that I'd pinch flatted my rear tire. Now, I am a pretty good mechanic, but imagine changing a tube on a tire and wheel covered in about 5 kilos of gloopy mud. After doing the best I could to scrape off most of the mud, I changed my tire and after only 200 metres it blew again because some mud had gotten in the wheel. Luckily I had brought two tubes and this time there was a creek nearby where I cleaned the wheel and voila! I was on my way, albeit after losing almost 20 minutes fettling around.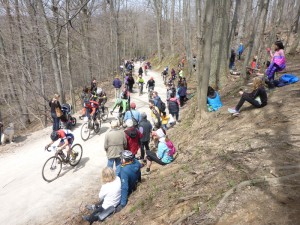 By this point I was pretty spent and after almost 70 kms of tough terrain the finishers are treated to what organizers John Thorpe and Tim Farrar cheerfully call a "sting in the tail" – better described as a brutal kilometre-long dirt climb that pitches up to 25% grade (yes I did write 25%) and has been known to reduce grown men and women to tears and worse: walking their bikes. I have done P2A about eight times and I have never once suffered the humility of walking this section. This year, despite taller gearing and 10 pounds of winter fat, I was again successful (but just barely).
The event could only happen with the tenacity of the long-time promoters, hundreds of cheerful volunteers, local police, cheering crowds and the generosity of local landowners, since much of this course is run on private land.
So why do I choose to ride an epic event that starts on a cold April morning and could end in tears? Because life is an adventure and one of the best tickets to ride is to hop on a bike and see where it takes you.