How I Went From Non-Athlete To Ultra Marathon Runner
"Growing up, I didn't do any sort of physical activity," says Katherine Yager, Toronto-based ultra marathon runner. "It's not like I ran track in high school or university, which I think is generally the assumption."
Things have certainly changed.
Nowadays, Katherine's no stranger to running 100km training weeks, regularly competing in trail and road races, and achieving her goal of running 80km in a single day—an accomplishment that took her 11 hours and 34 minutes to complete earlier this year.
Katherine says her journey to becoming an ultra marathon runner began when she was in university, where she'd run just a few kilometres a couple times a week for exercise.
I remember one time a friend of mine who didn't run at all told me she ran 13km, and I thought, 'Wow, I could never run that far!'
But after university in 2011, Katherine decided to sign up for her first half marathon.
"I've maybe never felt so bad as I did after that race," she says. "It wrecked me."
Although that initial half marathon was a painful endeavour, it snowballed her love of running, and Katherine completed three more half marathons the following year.
In the spring of 2013 she went to sign up for another half marathon, but had second thoughts.
I knew I could do it without training, so it wasn't a challenge for me anymore.
Katherine signed up for a full marathon instead, trained for five months, and ran her first 42.2km.
There are two ribbons at the end of the race: one for those completing the half marathon, and one for those completing the full marathon.
"I went through the ribbon I thought I would never go through," she says.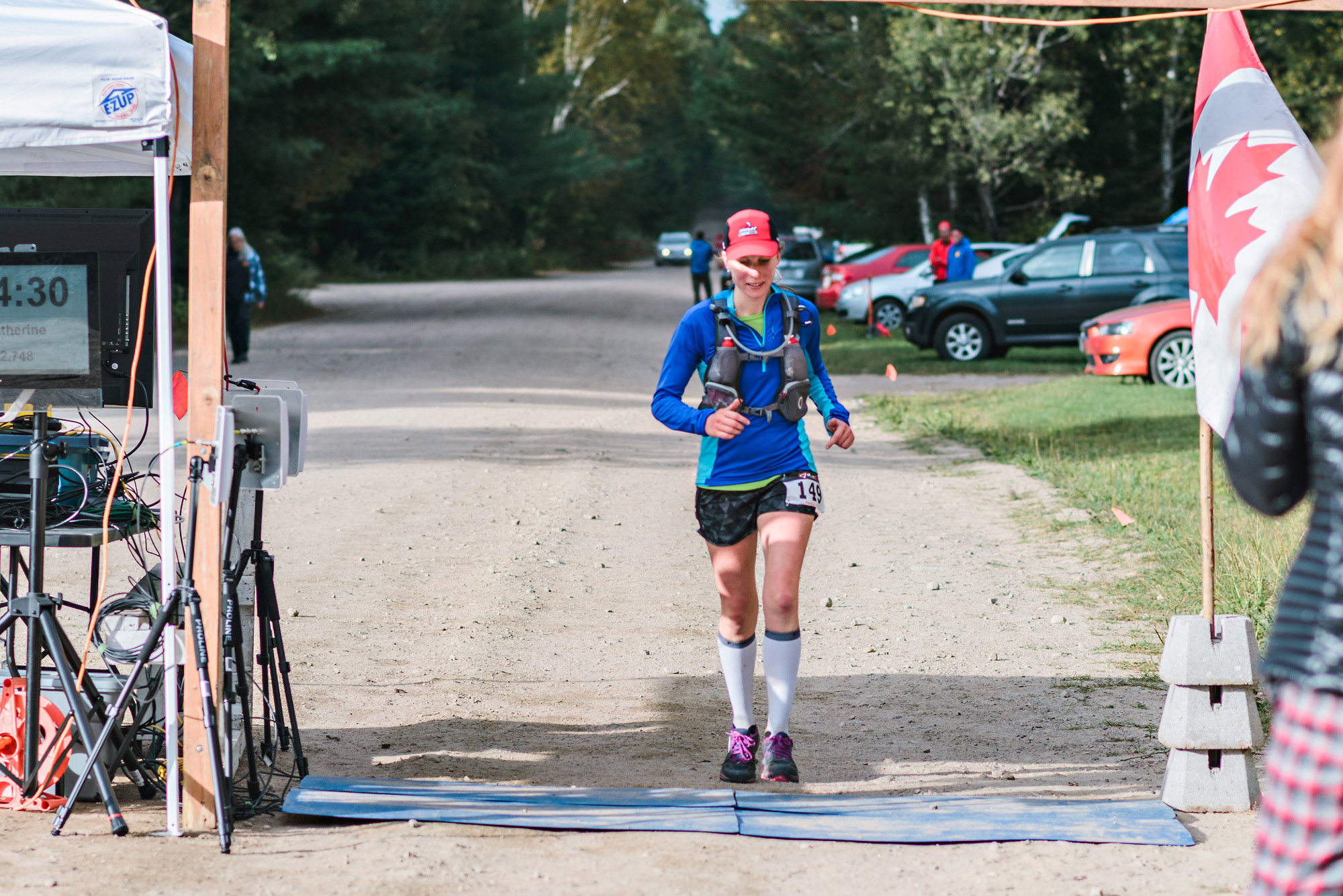 Katherine decided to participate in another marathon in the spring of 2013, but unfortunately the race resulted in a knee injury and a halt to her running.
"I ran the marathon without training properly, and I was out of commission for about six months," she says.
That's when I learned the importance of training properly, wearing the right shoes, and many other things.
At that point, Katherine thought she'd never want to do another marathon again. That was until she found out about trail running and ultra marathons.
After watching several documentaries on the topic of ultra marathons and reading about people's amazing feats of running, Katherine's running spirit was re-ignited. She got into trail running around Toronto, built back her strength and endurance over six months, and then signed up for her first ever ultra marathon—a 50km race held in Washington, DC this past April.
WHAT'S AN ULTRA MARATHON ANYWAYS?
A standard marathon is 42.2km. Any distance beyond that is considered an ultra marathon.
So how does someone prepare herself to run an ultra marathon? Katherine's pre-race training schedule looks a little something like this:
On a Tuesday I'd run 10km, Wednesday I'd run 20km, Thursday I'd run hills, which really sucks, and Friday I'd have off.
Back-to-back long runs are key to training for ultra marathons. Most traditional marathon training programs have one long run per week.
"This means I'd run 25km on Saturday and then 35km on Sunday to make a 60km weekend."
In addition to her running, Katherine regularly hits her local gym, Bomb Fitness, to train other parts of her body. She also sees an athletic therapist for preventative therapy, and she has a running coach.
"I chose my coach specifically because he also runs ultra marathons," she says. "He's a huge help with my training!"
5 TRAINING TIPS FROM AN ULTRA MARATHON RUNNER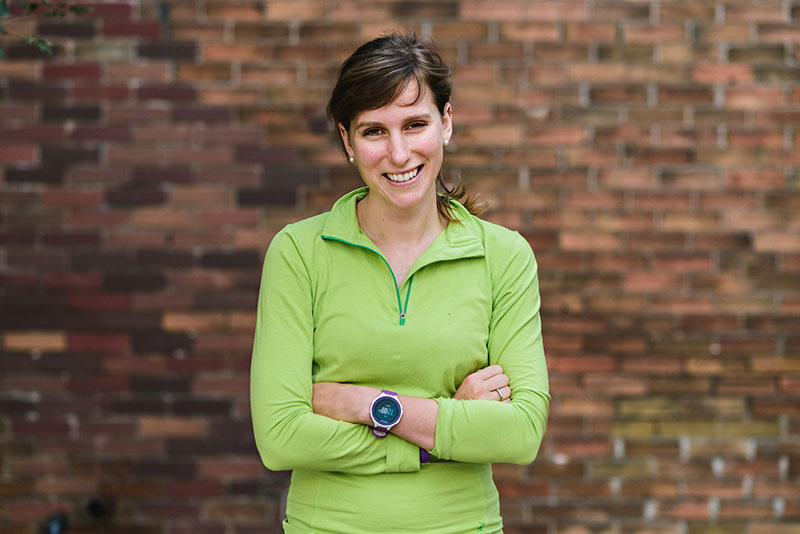 With all these kilometres under her belt, what are the best tips Katherine has learned over the years for succeeding in her sport?
Sleep: "I try really hard to get enough because it makes a huge difference in your training. Your body needs time to recover because you're putting it through so much," she says.
Support: "The people in your life need to understand what you're doing and be around to support you. Trying to do this alone wouldn't work."
Katherine says her fiancé, Callum, and her family are very supportive of what she does.
The thing about running this much is that it's a solid 12 hours out of my week, in addition to showering, the gym and all the rest of it. So there needs to be a lot of understanding, especially on Callum's part.
Community: "Find great people who will help you achieve your goals," she says. "I have my gym, my running coach, my athletic therapist, and, of course Callum, my partner in life."
The trail running community is also incredibly supportive, and a lot less competitive than road racing, says Katherine.
A goal: "Even if you think it's crazy, commit yourself to your goal, and find a way to do it," she says.
Throw the concept of failing out the window: "When I decided to run 80km, I was going to run 80km. That was that. There was no, 'Maybe I'll make it, or maybe I won't.' I was going to do it. That helps mentality-wise. Don't give yourself leeway."
Katherine says she loves running in general because it's a really great avenue for people to create and achieve goals, as well as to test their physical limits.
"Most people don't ever see what they can really do," she says.
I would never have thought I could run this far. But I can, and I'd like to run further.
RUNNING INTO THE FUTURE
Katherine has many short-term goals she's looking forward to achieving in her running, but is ultra marathon running something she sees herself doing over the long-term?
"I know lots of people who've done this long term, but it really is a lot of running," she says. "Will I always run? Probably. I can't imagine my life without it. But maybe not 100km weeks!"
In May 2016 Katherine's planning to run 160km (100 miles) at Sulphur Springs Trail Run in Ancaster, ON.
---
KATHERINE YAGER: When she isn't running, Katherine is the marketing director at Hardlines—an information publishing company for the home improvement industry. She is also a vegetarian, which she says is a huge benefit to her training regime, and she enjoys travelling, cooking and doing anything outdoors with her fiancé, Callum, and their munsterlander spaniel, Lucy.
You can follow Katherine on Twitter and Instagram, or read more about her ultra marathon lifestyle at KatherineYager.com.